scratch card promotion!
EVERYBODY WINS!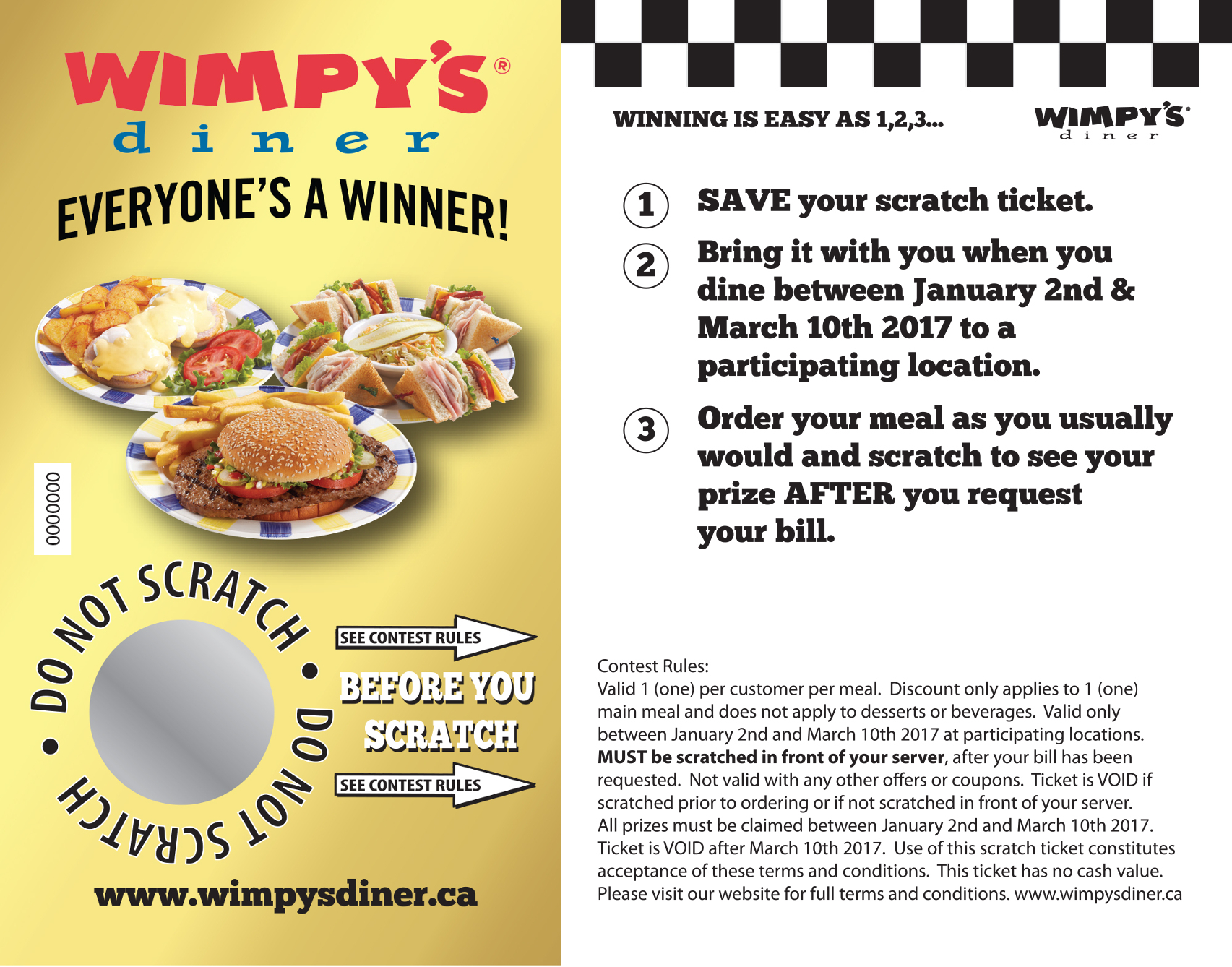 Save your scratch ticket.
Bring it with you when you dine between January 2nd and March 10th 2017 to a participating location.
Order your meal as you usually would and scratch to see your prize AFTER you see your bill![hr]
We serve our food made to order, whether you order from our menu or you order from the daily specials board.
If you are one of our many customers who visits various
locations you will have something new to see and to experience at each and every location.
Please note: The Diners daily specials may vary from one location to another.
Daily specials have been suggested by
Head Office and the diners may also choose their specials from their own mouth watering creations.
Make sure you don't miss out on our specials and contests by following
on Twitter and Liking us on Facebook!
Our gift certificates are the perfect way to share the gift of
Diner with the people you love. Give the gift of great taste. Our brand new vouchers will be in your local
Diner soon! We encourage you to try one!
At
Diner, we believe that community is everything.
We have a proud history of giving back to the communities that our valued guests live and work in.
Each year, we receive thousands of requests for community support in the form of sponsorships and donations and although we would love to provide support to all organizations and community groups, we are focused on community initiatives that support but are not exclusive to kids and youth, families in need, health and wellness and arts and culture. Preference will be given to requests from:
Non-profit organizations
Organizations with a registered charity number from Revenue Canada
Organizations where Wimpy's Diner operates
Organizations that have a direct impact on the community
Organizations with social media and digital presence
Any community support requests must be submitted through our Online Application.
Applications must be received at least 3 months before the community initiative or event.
Our limited time offers are coming soon!